Questions?
They are answered by the XTRF community and our experts

We are getting language-specific files from a client, and would like to use Smart projects but I don't see a way of adding files to be translated to specific languages only.

In a classic project you can use bundles to categorize files that will go through a specific workflow, so I am looking for an equivalent way of doing this in a Smart project.

Does anyone have any idea how this can be done?


Basically, file categories in Smart projects replaced bundles known from a classic project to steer the file flow in process.
However, if I understand you correctly, the question here is more about having different workflows within one project, which is not exactly possible and two projects with the same ID would have to be created. This has been discussed on our Ideas forum.


I don't think this is possible, but I believe it is a useful feature. We have some customers who have several connected companies, but the contact persons for these are the same.
Would it be possible to share the same contact person with several connected customers, without having duplicate contact persons?

What is the reason behind sharing contacts between customers? Is it just to avoid duplicates?
If you use Offices functionality to connect customers, one contact can order quotes or confirm them through the Customer Portal in the name of another customer that is in another office. It depends on the setting in contact person's Account Data tab, where they can be given rights to manage quotes/projects ordered by:
him-/herself,
their department,
the default office in the organizational structure,
any office in the structure.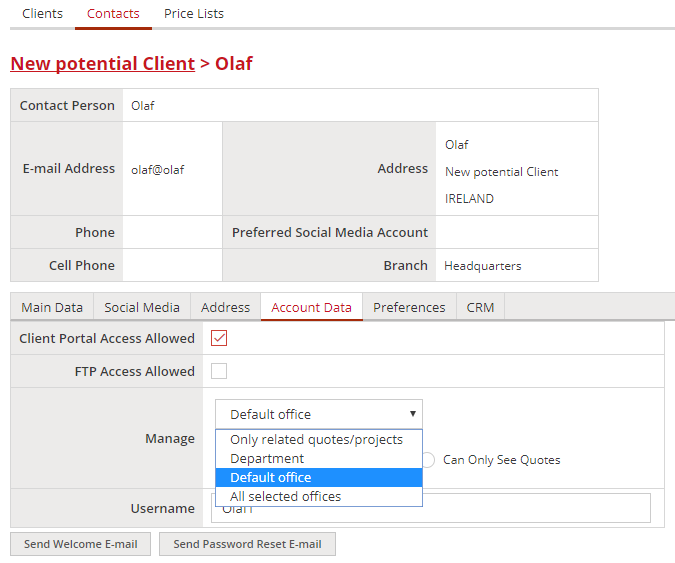 We are facing one specific issue concerning XTRF and the automated workflows that use the Trados integration. It's given by our specific setup where the Trados Agent/Trados Studio is installed on our US server where also all the XTRF resources (TM's, termbases).

Now, the unpleasant issue is that the people in French office (PM's, linguists) don't have direct access to the US server (although they can connect through VPN) so whenever they open a package created by the Agent in Trados Studio they receive an error message that the TM's cannot be accessed so in the end they have to add the TM's manually which takes time especially with multilingual projects.
So we were trying to modify the settings in a way that TM's are always attached into the packages, but it doesn't seem to work.
So far we checked the workflow definitions and tried to change the settings regarding TM (see the attached screenshot). We tried both of the following:
Create a new file-based project translation memory for every package
Include the existing project translation memory in every package
Neither of it makes any difference, there are still only remote TM's attached in the package.
If anyone has some ideas what to try to get rid of this obstacle we will be really grateful.

Hi Tomas,
After having a look into this query, it seems that this case is not related to XTRF after all.

I have duplicates that should really be one record.

Hi Ted,
There is no merging contacts. We suggest copying the data, and deleting or maybe rather deactivate one of the doubled records.
And if needed you can always post In the Ideas forum.



Kind regards,
Peter


A lot of receivables had the wrong quantity, so now I have to go back and change all the receivables. All the total agreed stay the same, so the invoices stay identical. What's the fastest way of doing these changes?

Does anyone have any experience with this? I want to update the LiveDocs with the translation, but the automatic resource update function does not seem to work for LiveDocs at all.

I confirm what Leo said above. XTRF treats the entire collection as a resource, ie. LiveDocs are not updated in the process.
Peter, feel free to post an idea for improvement in this respect.

I somehow closed the job and I tried to go back in and add the receivable but it is not allowing me.

It can be done in the job management sidebar.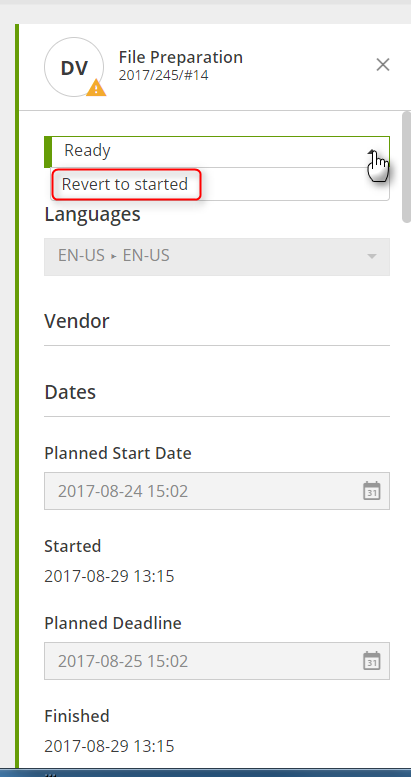 Roll down the job status list and select Revert to Started. It will reopen the whole project in case this was the last job, so you'll be able to edit receivables.

I believe receiving a notification for when these 2 options happen at the same time would definitely avoid any type of delays on the Project Management's end, as sometimes it could be difficult to simultaneously keep track of all opened steps in several projects. Notification could be send both to Project Manager and Vendor assigned.

Hi Eduardo,
You can specify notification settings in Configuration -> Projects -> Settings. I have these checkboxes in my mind

These notifications are in fact sent only to the Vendor by default, but all defaults can be obvioulsy changed. To add a Project Manager as a recipient, do the following.
1. Go to Configuration -> Notifications -> Notifications -> Templates.
2. Then, choose the wanted one - When job's deadline is nearing.


3. In the Recipient field, add (by clicking on a plus) the Project Manager, just as shown.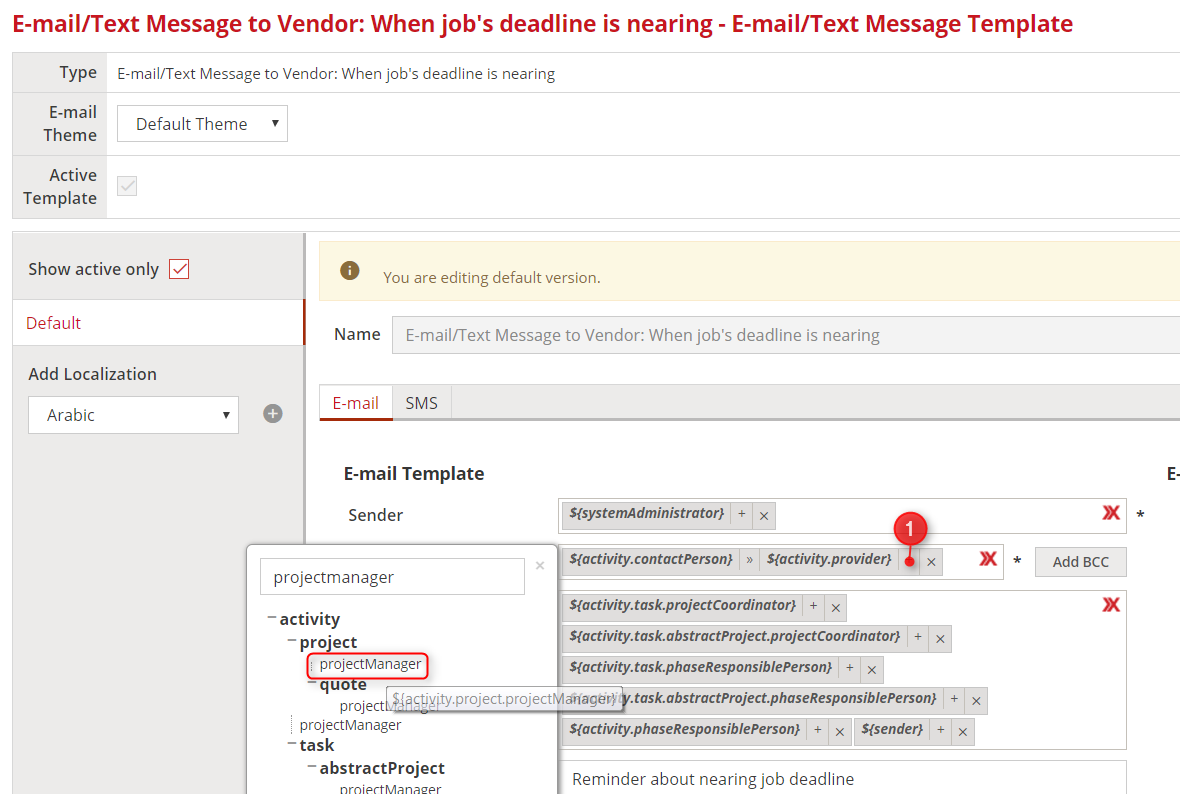 Such prepared notification will be send to all people set in the Recipient field, so in this case - to both, the Vendor and the Project Manager.