Questions?
They are answered by the XTRF community and our experts

We would like to be able to track the number of job offers a vendor has rejected. Is that possible? If so, where is the data stored and how can we access it?

Rejected and unanswered Job Offers are not stored anywhere. It is not possible to tell who got the offer after you assign someone to a job.

There was talk to have this feature implemented for 8.2 and then 8.3. For which version is it currently planned?
Besides formatting tools to differentiate and highlight important pieces of information in these notes fields, having active hyperlink that are clickable in the notes fields would be very practical.

Hi Sancho. In XTRF 8.1 we introduced clickable links for Client Notes (Client Portal) and Instructions from PM (Vendor Portal). There are no plans for the nearest future to introduce a WYSIWYG editor for the notes fields or formatting by means of markdown (although it was in our plans some time ago, indeed).
Here's a related discussion on Product Development Ideas forum - I can see you already "liked" it and posted your comment.
https://xtrf.userecho.com/communities/1/topics/976-format-internal-and-customer-notes-in-quotes

Vendor availability is a useful parameter for PMs when planning projects. Based on the productivity of each vendor and the assigned jobs, the remaining availability for the vendor is displayed as a graph or percentage. Has anyone else come across the following issues and are these bugs or is there a workaround?
If a job is accepted but does not specify a volume yet (e.g. project announced by customer without volume info), the availability of the vendor for the estimated time period of the job is completely blocked, i.e. the availability is down to 0%. The same is true for editing jobs that are specified/billed by the hour once the job is finished. Rather than completely blocking the vendor availability when the volume of the job is not known yet, the availability should either remain unaffected (until volume is entered for the job) or a more sophisticated indicator for unspecified volumes is used (color, pattern, asterisk, etc.).
Vacation days entered by vendors block the availability on those days. The current issue is that XTRF does not use calendar days (e.g. June 20) but hourly ranges (e.g. 00:01 to 23:59 of June 20) for this blocking action. Due to different time zones, one vacation day as entered by the vendor now registers as two vacation days in the Home Portal (e.g. June 20 and 21). I believe this is a known issue, as the time zone bug has been on the list for a long time. But since development seems to be driven by voting now, I wanted to get this out to the UE community.

Hi,
When hitting cancel in the receivables or payebles window a page refesh still occurs.
This was solved for the save button. It would be great if tis also gets resolved for the cancel button.

We want to identify potential editors for a specific client. In order to be considered, these vendors must already have worked on 50 or more translation or transcription jobs for this client. I'm having trouble pulling this data.
In the Vendors module, I can find vendors who have done at least 50 jobs, including at least one job for this client. This means that I'll sometimes find vendors who have done more than 50 jobs but only one or two jobs for the client. I don't want them to appear in my search because they aren't qualified to be considered for editing.
In Projects > Jobs, I can find all the jobs a vendor has done for this client, but it's time-consuming to tally the number of jobs per vendor.
How can I find vendors who've done 50 or more jobs for this specific client? Thanks.
Hello. We recently did a DTP project with 25 target languages. They were all worked on by the same designer. When it was time to issue the PO, the system wouldn't let me do it unless I created a PO for EACH language individually. I wanted to just have all languages in the same PO so I could issue a PO for the total amount for the vendor. Is that possible? Thank you!

I could not find a UE thread or release note on this topic. Is anyone aware whether this issue has finally been fixed in the latest 8.x patches?
While the settings allow to differentiate between System and User time zones, this has not worked since its inception. Example: System time zone is the time zone of headquarters. User time zone varies depending on where the branches and vendors are located, or where you are currently working from if traveling. IP sets the User time zone. But to avoid confusion when working over several time zones, the System time zone is supposed to standardize time entries (project planning, deadlines, vacation planning, work logs, etc.).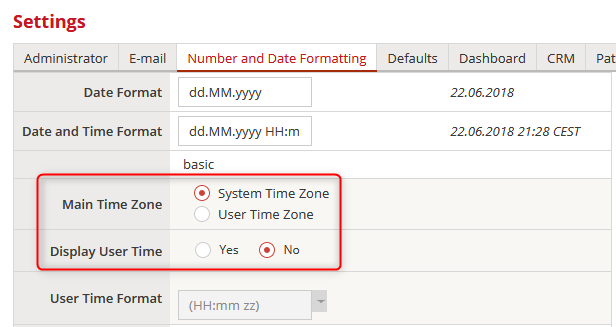 How can i delete a smart project ?
When i tried to delete a project, i received this message " Smart project can't be removed ".

Hi,
SInce the question about the word count was answered in a great way. I have a similar question for the margin. (We are using smart projects)
Would it be possible to create a VC on job level to get the margin for that language combination? This would help us checking the jobs.
Currently we report on margin on project level as a workaround.
A project has been created and a wrong Client has been associated to the project.
Is there a way to modify the "Client" when the project has been created?