Questions?
They are answered by the XTRF community and our experts

How are you XTRF/memoQ users handling the wrapping up of projects in memoQ? Currently there is no API command (to my knowledge) that allows XTRF to wrap up a completed project in memoQ. This leads to lots of unwrapped memoQ projects and therefore to lots of Working TMs as TM reference material in new XTRF projects.
So far we have had to ask our PMs to wrap up projects manually. PMs currently do this once a week to reduce the amount of Working TMs in XTRF, as the wrap-up action submit Working TM to Master TM in memoQ.
I had asked XTRF to incorporate a wrap-up API call from XTRF to memoQ when the XTRF project is closed, as this seems to be the most logical and practical time to run this action. However, I was told that this is not a common request by XTRF/memoQ users. Therefore, I would like to check with all of you in case I am missing something.
Thanks in advance!
Sancho

The best solutions we know to wrapping up the projects in memoQ have been already posted in this thread (thank you all for that!). We agree Automatic CAT Tool Project Wrapping by XTRF would be a useful feature and we encourage you to vote for this development idea and help us design the automation by answering the questions there. The more votes it collects, the sooner it will be available :)
As for sharing the project TM with the vendor, let's keep it as a separate discussion.

We have been using Smart Projects for almost 9 months now and have found workarounds for most situations. But from time to time, we want to make sure we are not falling into bad habits, but instead are using the system as efficiently as possible. To this end, I wanted to get the community involved to see what you have found to be the best way to monitor the status and need for action for numerous projects at the same time, e.g. at least 50-100 open projects simultaneously.
So far we have used a hybrid approach of:
* List of open projects
* List of jobs due today or earlier
* Systematically adding an internal "project preparation" step to all projects, which we only set to Ready once all vendors have been assigned, finances are verified, and the project confirmation to customer has been sent out
While this works fairly well, it is surely not ideal. The main purpose of a project management system is to have a clear and organised overview of running projects and jobs. The Smart Projects Dashboard is, at best, a half-hearted effort to achieve that. And the Notification section in the top bar is not practical or reliable at this point (see other threads on this topic).
So as we wait for a better solution to be developed, what other ways have you found to be effective in keeping an overview?

It would be great if custom fields from XTRF project could be mapped to memoQ project fields through integration. Without this, more advanced automations become half-manual, which is not quite the trend the industry is going.

Customers will send changed source documents quite frequently. Even though we are experienced users of Smart Projects, we are not sure whether we are using best practices for such scenarios. Quite some time ago, we discussed the need for better handling of source document reimports (integrated with memoQ). Not sure where this is on the roadmap, which is why I would like to UE community benefit from this discussion.
Scenarios:
(1) Integrated memoQ project with bilingual source documents already created, but translator hasn't started.
(2) Integrated memoQ project with bilingual source documents already created and translator has started, but not delivered.
(3) Integrated memoQ project with bilingual source documents already created and translator has started and delivered. Bilingual document is now with proofreader.
What is the best way to handle both file management and finances (receivables/payables) in these scenarios with the current Smart Project design?

Hi community,
Are there any memoQ integrated smart project users who implemented MT and MTPE into their processes?
Any chance to share insights on how you set up the automation part of it? We are aiming at a highly automated process, obviously.
Ideally we would like to have a separate process template for that, but CAT tool integrated process steps are reportedly not cloneable. So for now we'll work with regular CAT tool integrated process steps, mapped with the available roles in memoQ. This means we'll have to look into other options to automate: price profiles.
But here we stumble upon the roadblock of fully automated provider selection rules. We can filter on categories matching the correct provider, but unfortunately not the correct vendor price profile will be used... as job types from these steps are 'translation' and 'proofreading' which are used for regular translation and proofreading jobs in the default price profile.
Does anyone see or use another workaround that meets the "highly/fully automated" requirement?
Thanks a lot!

Dear all,
I am aware that integration with Studio is now only available with classic projects. Is it at least planned to be integrated with Smart Projects as well? If yes, which update/when?

Thank you.


Does anyone know what API command to use to set a job as uninvoiceable (Smart Projects)? We are trying to set this Invoicing Term at the start of the step/job in question, which would be the trigger. Since we are not able to set this field in the global or process configuration of XTRF, we have to get an API call to take care of that, but so far I have not been able to find the right field/value in the API documentation that points to the property Invoiceable.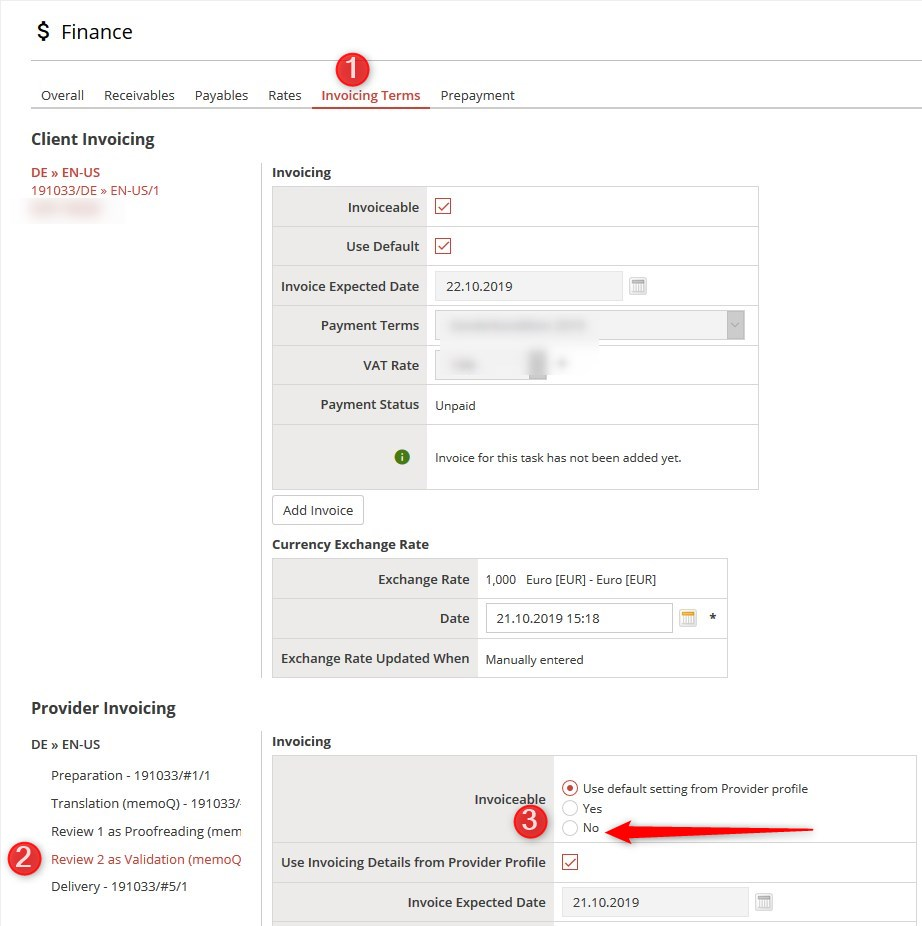 Does anyone use SmartProjects 8.3 (current version) with memoQ server 9.1? If so, any known integration issues?

Is XTRF 8.3.11 compatible with memoQ 8.7?
And when do we expect compatibility with memoQ 9?

Could you please expound on the new concept of the First Close Date (released with 8.3)? Currently it seems as if this field is left unlocked after closing the project. Will an additional field be added/visible when reopening and closing a project? So far I am not able to see such a field, unless the the finish date of the last job of a project is that field. I am sure there is an easy explanation.
Speaking of which, it would be helpful to continue posting an example for each new feature of the latest minor release, as was partly done in the past. The same goes for compatibility of the new XTRF version with CAT tools, e.g. is XTRF 8.3 compatible with memoQ 9.0?

In 8.2 we rolled out a change concerning First Close Date in Classic Projects. The change is described in details in this article. The change from XTRF 8.3 is a similar change, but this time for Smart Projects. Actual Close Date has been renamed to First Close Date, and it doesn't get updated now if you reopen and close again a Project. The field can only be updated manually by 'admin' user.
Regarding compatibility with memoQ 9, out integration was not tested against this version before the release of 8.3. We are planning the tests in the nearest future and, when the compatibility is confirmed, the information will be published in the release notes.