Questions?
They are answered by the XTRF community and our experts
It would be great is XTRF had a simple log somewhere that tracked every action: time when X happened and by who. It would be very useful for:
learning how things get deleted
learning how long it takes for activities to complete
learn what activities took place
learning whether or not things get done by a certain amount of time
very valuable management and management KPIs can be developed from this.
I'm sure it would also help with troubleshooting problems with projects and the XTRF too.

Tomas is right.
The feature is available, but not enabled for everyone. Contact Service Desk or your KAM about it.
I was wondering if there is a way to schedule the date and time when the delivery e-mail for a given project will be sent.
Sometimes we are done with a certain job, but want to deliver it to our clients at the time we actually promised them, not hours (or even days) before...
Is there any way for us to close the workflow, get the e-mail generated, and then have it sent at the time that has been assigned as the Deadline for the task?
Thank you.
Hello. We recently did a DTP project with 25 target languages. They were all worked on by the same designer. When it was time to issue the PO, the system wouldn't let me do it unless I created a PO for EACH language individually. I wanted to just have all languages in the same PO so I could issue a PO for the total amount for the vendor. Is that possible? Thank you!

I could not find a UE thread or release note on this topic. Is anyone aware whether this issue has finally been fixed in the latest 8.x patches?
While the settings allow to differentiate between System and User time zones, this has not worked since its inception. Example: System time zone is the time zone of headquarters. User time zone varies depending on where the branches and vendors are located, or where you are currently working from if traveling. IP sets the User time zone. But to avoid confusion when working over several time zones, the System time zone is supposed to standardize time entries (project planning, deadlines, vacation planning, work logs, etc.).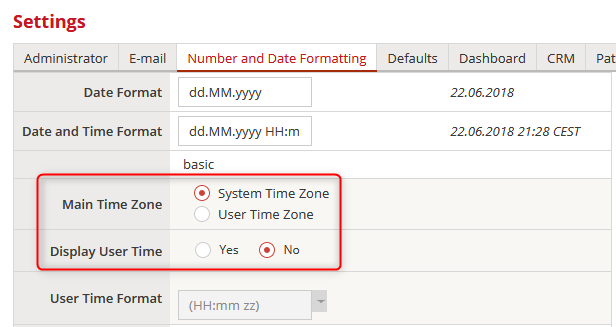 Do you know of a way to set a default specialization for a client?
It should be pre-selected whenever you create a project for that specific client.
How can i delete a smart project ?
When i tried to delete a project, i received this message " Smart project can't be removed ".

Hi,
SInce the question about the word count was answered in a great way. I have a similar question for the margin. (We are using smart projects)
Would it be possible to create a VC on job level to get the margin for that language combination? This would help us checking the jobs.
Currently we report on margin on project level as a workaround.
A project has been created and a wrong Client has been associated to the project.
Is there a way to modify the "Client" when the project has been created?

I'm finding that it takes much longer than I expected to vet each individual new vendor's profile - this includes checking rates for services, viewing the attached resume/CV, looking up the vendor's professional website/LinkedIn profile, contacting references, etc. How long does it usually take VMs to vet vendors? Which sections do you make sure to view versus ignore until needed later, when the vendor is already working with you?

Hi,
I have a question regarding the actual start date for a project that was started from a quote.
The current situation is: We receive a rfq, whe create a quote and some jobs in the process (file preparation jobs) need to be completed before we can do a wordcount and give the customer a price. So far so good. But when this client accepts this quote and places the order 5 days later. The project is created and the actual start date for that project is 5 days earlier.
Shouldn't this date be the date that the customer places the order, or even better the date that the first action in the project is performed after the order is placed?
Regards,
Robrecht