Questions?
They are answered by the XTRF community and our experts
Hello,
I was wondering how everyone is handling this in classic projects.
I talked to our implementation specialist and he suggested to add a second PM as "Project Coordinator", but what if we have 3 or more PM's that need to follow up on the project?
What would be your best solution?
It would be nice to have the option to add as many PM's as you want to a project.
Is it possible to have a document word count displayed in the Quotes view when a document is received from a customer through the Customer Portal? We know that XTRF has already calculated this, as the word count is displayed to the customer before clicking 'Launch Project'. I know that the CAT tool calculates the total and weighted word count after the quote is converted into a project, but it would be handy to have the total word count visible also at the earlier stage when the request is first received.

Hello,
We are experiencing an error when creating a task for a project. Can you help me solving it, please?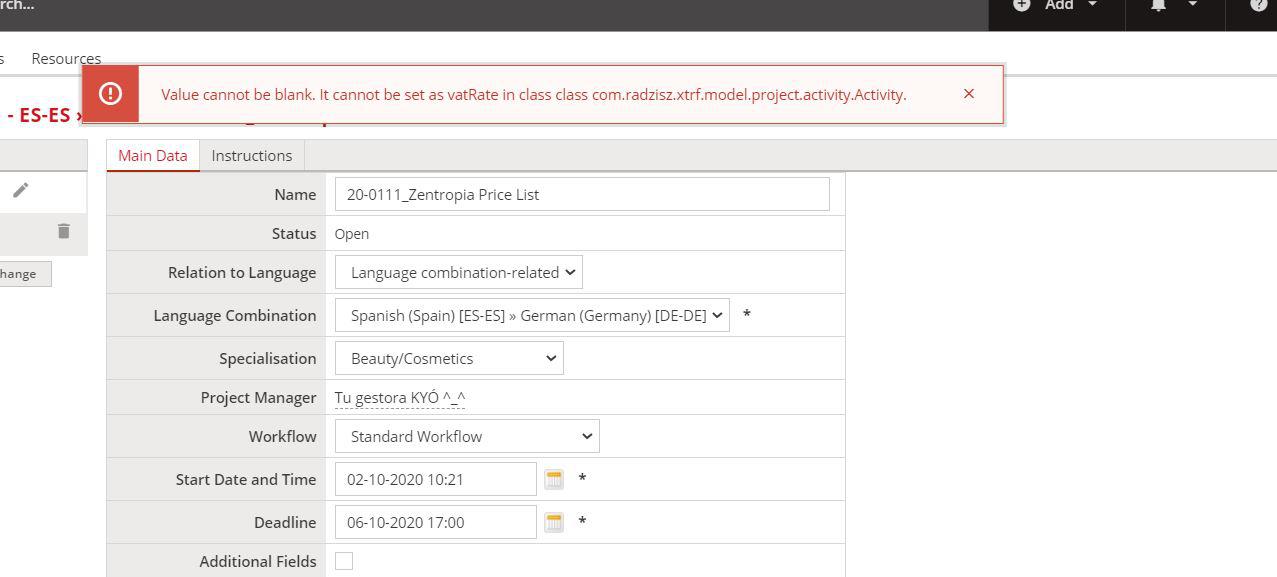 We are looking to use the Feedback function in XTRF to record client complaints. Is it possible to invite the translators who were involved in the project to enter a response directly into the Feedback form? The reason I would like to do this is to give the translators the opportunity to defend their work or admit their mistake or provide any other type of response. It would be nice to have this stored together with the complaint, for future reference.
Hello!
Can someone advise me, if I can somehow customize or manage quote timeout?
We have run into situations when difficult quote is created, but it times out too soon and all already registered info is deleted and quote set back to start.

Would it be possible to add a search filter for Tasks/Jobs for a launched Project? For example, if I can search and view only Jobs based on Job name, type, or some other things.
It'd be useful to apply Multiple Changes across multiple languages without having to manually scroll through a huge list.
Hello!
Can we add an option in the overall XTRF Settings to "untick" these options below?
Our team has flagged major issues with these being automatically "ticked".
For example, if you are setting the Start Date and Time for the second Job in your Workflow, and you forget to "untick"' this option, then the deadline of the previous job is changed and can therefore result in late deliveries.


It would be great to at least have the option in Configuration to have this setting "unticked".
Has anyone else experienced issues with this?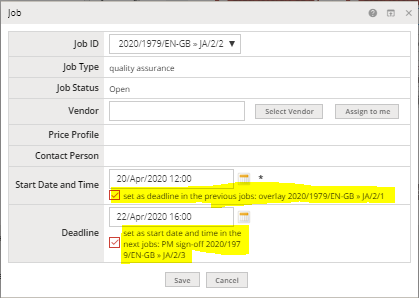 Hi Dionna, hi Monica

I'm afraid that there's no option to change this options default, as this is not accessible from user interface and only appears when changing dates manually.


I would like to alter the settings, such as unchecking the box for "Apply to Tasks" for the Deadline. Where can I adjust these settings/defaults?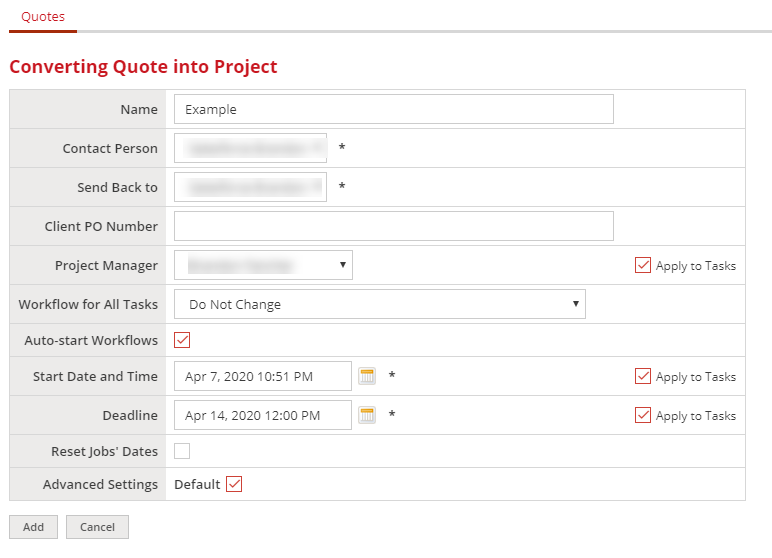 Hello,
it is possible to add a new payment term for a xpecific provider. i will add 40 days after invoice date, but in the drop down we dont have 40. how can i addd this.
Thank you and kirnd regards,

Georgi patronov

Hello, I wanted to ask if there is a way to create a discount/surcharge that would be expressed in a fixed fee, for example, $50. I need this fee to add automatically to all Receivables created for this client.
Do you have any ideas or workaround? Any help much appreciated!
Best,
Monika