Questions?
They are answered by the XTRF community and our experts

There is a discrepancy between fields that a vendor can enter/edit from the VP portal and fields that are displayed in the HP.

Vendor portal: 

Vendor has mupltiple bank accounts for transfer in the HP:

Only 1 field is displayed in VP: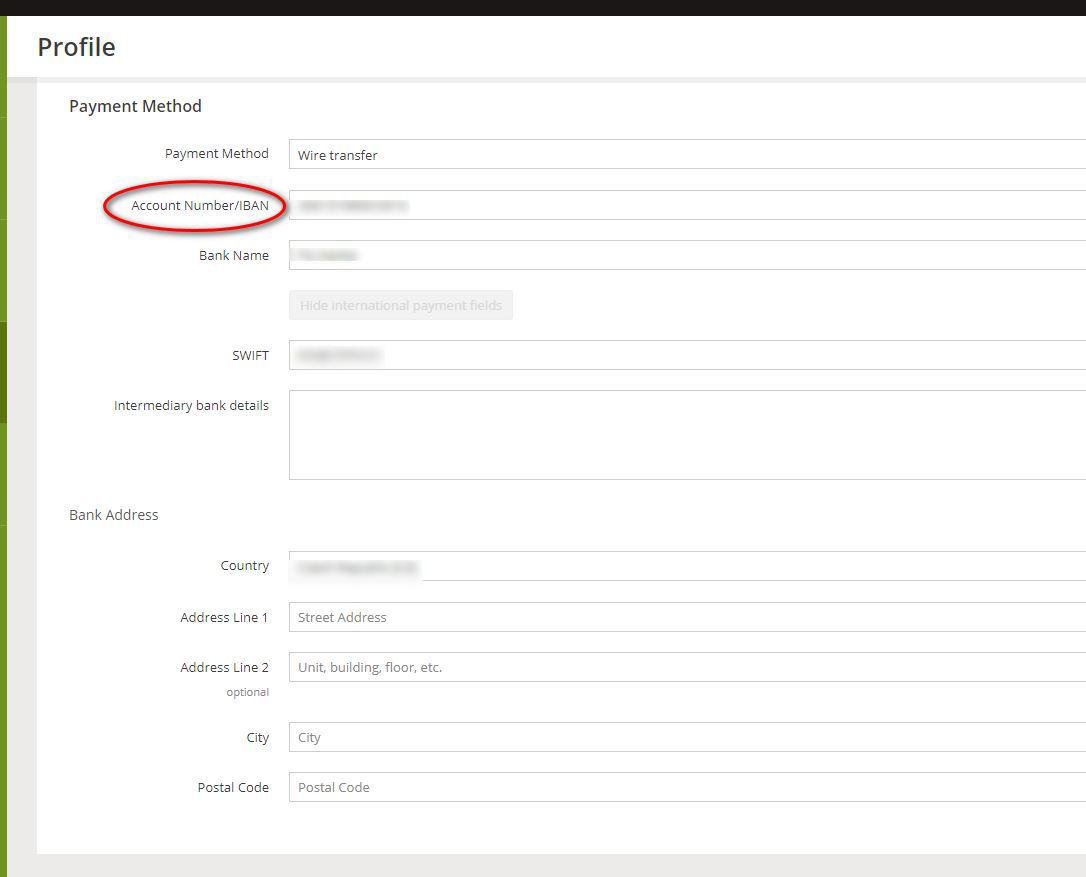 Multiple fields in the HP
While in VP there is only one field for "account number/IBAN" in HP there are two separate fields for account number and IBAN: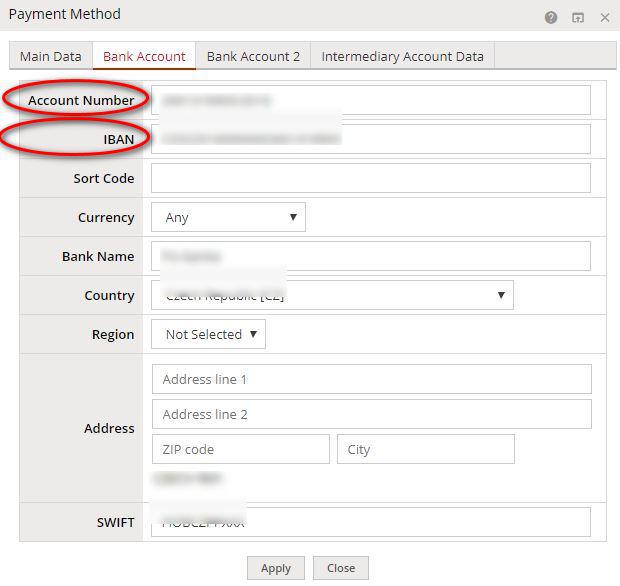 Change in VP in the field "account number/IBAN" is reflected only in the "account number". So while, the provider may expect that it is correnctly processed as he entered IBAN into that field, it usually results in mispayment unless all changes are double-checked.

If would make sense to make two separate fields available in the VP as well to reflex the HP
# account number 
# IBAN

I am also reminding that anybody with access to the Vendor contact person card in HP can login to VP as that vendor and have these details changed. 

I find it surprising that vendors cannot update their main email address. I went through all the topics in the Vendor Portal Help Center, but didn't find anything. The only thing I found was this: "The e-mail address provided at registration is used for identification and notifications, it is not possible to change this." Could you please consider changing this feature?
It seems quite impractical. What happens when vendors want to change their main email address? Are there other options? I appreciate any help you can offer.
Thanks!

I believe this is because the email address is also the username of the contact person and so all the user data is linked to this email address. As Thijs suggests the best way is to create a new contact person and deactivate the old one. I tried it and all data inside the account will be visible in the same way to the new contact person.
Apart from doing that, you should also change the main email address under the provider and not only contact person. Go to provider's profile > Main Data > Address > Email address.
This way the old address will be entirely removed from the profile and your CRM messages and notifications will go to the updated address.

Several users have informed us of similar issue.
When vendor completes the registration process step by step but makes mistake at the services & rates section by making the same entry twice (for example, vendor made an entry for FR>DE simultaneous interpretation with the same specialization as for another entry - FR>DE, EN) they cannot finish the registration because it gives an error when trying to submit: "Oops... An error occurred while we were saving your data. Cannot define the same service option twice with different rates." And he cannot fix it from his side and remove the duplicate entry because the edit option does not work. Also he cannot delete the profile and start over because there is no such option. I tried to add him from my side and then send him a link to confirm registration however it just takes him back to the same view he had previously started to fill but cannot complete. Is there a solution for this apart from creating a new email address solely for XTRF Vendor portal? Nothing else seems to work.


We have a frequently occurring issue: vendors who already have a profile in our system will create a duplicate profile with a new email address, either because they forgot they already had an account, or because they didn't understand the system, or whatever other reason. Preventing this from happening seems very difficult; I don't know what criteria could be used to block existing users from creating a new profile, because they're using a different email when they do it; and trying to educate vendors on the subject isn't really viable, because we're not in contact with most of them until after the issue occurs. Anyway, we wanted to ask the Echo community and XTRF experts if there's anyone else who has experienced the same issue, and any ideas they have.
Best,
David

We are currently testing the 8.1 version of XTRF, which is hosted online by XTRF. When we login to a vendor's portal, the time it takes to access their profile takes a VERY long time (sometimes up to 3 minutes, also having to click 'Wait' for the page to continue to load). We have some companies (not freelancers) who are our vendors. They can handle many language combinations and may have multiple pricing profiles. It seems to take longer in these situations. Is this a common thing for people? Or could it be that we are in the test environment?

When is the update/renovation of the Vendor Portal planned? Will it still be part of 8.n or will we have to wait for 9.n?
So many good ideas on UE and it has to be the most frequented of the three portals because of the amount of VP users (vendors > clients > internal staff).
Some of the most pressing needs from our perspective are:
VP API access
Restriction of uploadable file types (both of delivery files and invoices), e.g. RTF or XLIFF for Bilingual and PDF for invoices
Smart Views options to select displayed columns and default sorting

Option as to where "Add Invoice" button(s) are displayed (currently both on Jobs and Invoice page)
Control over which messages are displayed on job page (e.g. memoQ delivery instructions)

Hi team,
Can vendors check their overall evaluation on Vendor Portal? Is this planned? How could they check their evaluation on Vendor Portal?
BR,
Hellen

Hi!
It would be very helpful if we could customise the vendor portal to our needs, e.g. we would like certain custom fields to show in the vendor portal. We would also like the option to disable the invoicing space for our suppliers for now.
Is this something you could look in to?
Many thanks.

We made some entries in the system, but we found out that when we send the PO to the Vendor, the project name is not visible.
The only information they receive is the project ID. Is it possible to include the project title as well in the PO in Vendor'portal?


None of XTRF portals have been designed for mobile platforms.
Having said that, we checked how selected areas behave on tablets and cells about two years ago.
The conclusion was: the bigger the screen, the better results you get when working with XTRF.
All the newer additions to the platform like Smart Projects or the Vendor Portal performed best in the test, but still had some glitches.
Please report to our Service Desk what concrete problems you get on mobile devices - providing us with info like Android/iOS and browser type would help greatly. We will not treat them with top priority but would certainly like to get rid of the most notorious ones. Thanks for your understanding!