Articles
This article discusses settings that may not be available to you, because of your user group rights or the plan you purchased.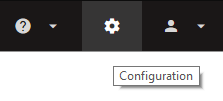 Left hand side search
Start typing for the system to produce configuration items that contain the inputted phrase.
Here are the main areas described:
General Configuration

Settings
Default system settings, applied to all users:

Administrator - shortcuts to the "admin" account
E-mail - account and mail server configuration
Number and Date Formatting - date, time, separators, currency sign
Defaults - base job types, units, rounding, currency, exchange rates behavior
Dashboard - the place where classic projects can be monitored
CRM - using HTML in notes, popup notifications
Paths and URLs - all the main links for the system
Security - single sign on, session timeout, password strength

Branches
You may just see the default "Headquarters" there with your company address and other data from your license. If your company has multiple offices, they may be added as Branches here with their own addresses. Clients belong to branch.
Custom Fields and Columns
It consists of three sections: Custom Fields, Custom Columns, and Order - see http://xtrf.userecho.com/forums/6-xtrf-knowledge-base/topics/349-apis-and-customizations/ for more details.

Views
An overview of all the smart views defined by all users of your organization. They can be deleted or taken over by you from here.

Projects and Quotes
Clients and Vendors

Vendor Settings

Default Values - let you define with what data vendors are created: preferred language of communication, currency and CAT tool in their profiles etc.
Payment Terms - configure how and when they are paid for the provided work: tax rate, invoicing and payment dates.
Invoicing - allows specifying which user is responsible for billing vendors.
Availability is all about the times when you expect your linguists work. This info is then used in job scheduling and availability-related columns.
Evaluation - shows how vendor rating is scaled.

Client Settings

Default Values - let you define with what data clients are created: preferred language of communication, currency and CAT tool in their profiles etc.
Payment Terms - configure how and when you should be paid for the provided services: tax rate, invoicing and payment dates.
Invoicing - lets you specify which user is responsible for invoicing in your company and what modifications are allowed on invoices (numbering, total value etc.).

Portals

Client Portal
All sorts of settings that impact the work with clients through their portal.
Vendor Portal
Recruitment, privacy, invoicing and moderation of vendor accounts are configured in this area.
Client Groups and Rights
The permissions given to your clients and their contacts are expressed in the groups seen here.
Quote Request Form
While it borrows many settings from the Client Portal's, there are still some very specific to the form: reviewer, price list for calculations and a terms&conditions file.
Only available in Professional and Premium plans.

User Management

Users
List and manage all users of the Home Portal.
User Groups and Rights
Modify user groups predefined by XTRF and create your own.
Access to Client Data
When this option is purchased and on, you can limit access to certain client accounts. Only 4 roles defined within each client account will still be able to open profiles, quotes, projects and invoices.
Work Log

Time tracking of logged-in users can capture declared activity and combine it with the system area of where the time was spent.


General Settings - decide on whether it should work automatically or entered manually by users.
User Groups Settings - define what activities should be assigned to which user groups.
Entries - browse actual entries of all users.

System Values: Basic / Advanced
They are the dictionary your company uses. It is where you define the languages in use, services sold, and even the country list. Individual items may be deleted if not used anywhere in the system, made active or inactive, or reworded to your liking.
Integration
Templates
For details see: http://xtrf.userecho.com/forums/6-xtrf-knowledge-base/topics/349-apis-and-customizations/
System Information

This a restricted area for admins on premise installations only