Articles
The Vendor Portal is a tool designed for your Vendors: linguists and other specialist. It can be used by freelancers, agencies and even your in-house team.
With the Vendor Portal they can:
Review Job Offers. Accept or reject new Job Offers.
Have a clear preview of all current, pending and completed work.
Download the source files and upload the completed target files. All files are finally in one place.
Create an invoice for completed work.
Notify their customer (the owner of the Vendor Portal) about planned unavailability.
Manager inviting Vendor to VP
Any Vendor Contact Person can use it when invited. You can invite your partners with the "Invite to Vendor Portal" functionality button. It is found in two places:
At the bottom of any Contact Person's 'Main Data' tab (good for individual invitations)
In either Vendors, or Contacts list, if you pick at least one item (good for group invitations, provided the chosen Vendor has Contact Persons)
Here is a clip explaining how to do it.
Vendor signing into VP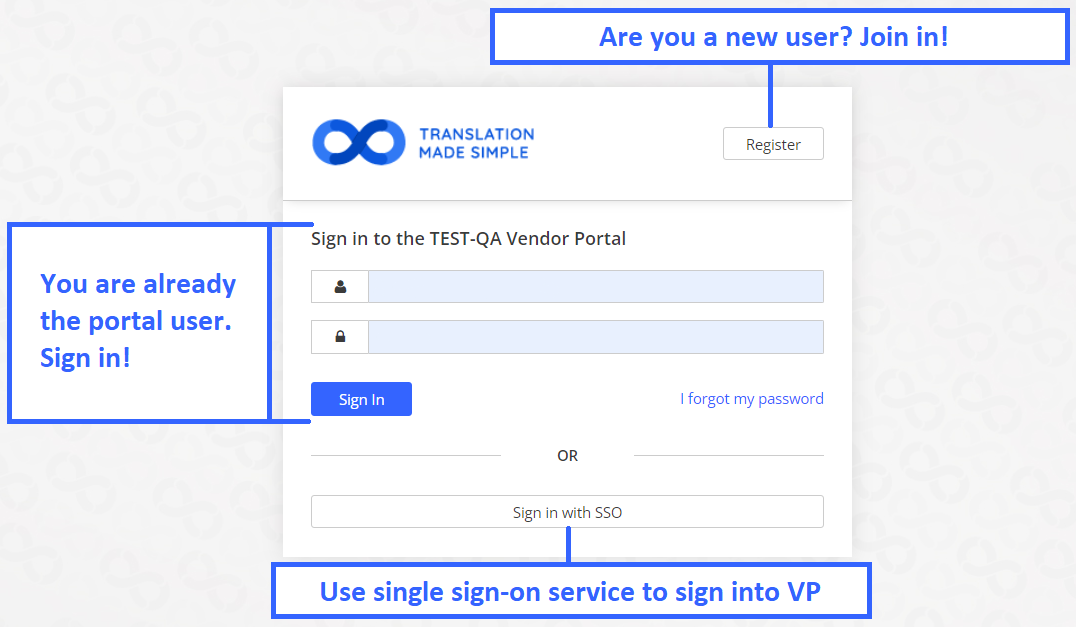 To sign in to the Vendor Portal use your email address or login and your password. If you have an account with an OpenID Connect Identity Provider like Google, Microsoft Azure, Yahoo, Salesforce, GitHub or others, you can Sign in with SSO as well.
If you have not used the Portal before, click on Register to create a new account. Click here to find more on how to create a new account.
Overview
After logging in, the Vendor can go any of five modules on the left-hand side panel. These are:
Job Offers
Jobs
Invoices
Profile
Holidays
The modules are discussed in details in their respective chapters of this Knowledge Base.
In the top-right corner, the person logged in can also manage some of their personal information, log in and preferences. It is also where they can log off.