Articles
What is archiving and what are the benefits?
Firstly, files in projects take disk space. Over time their overall volume might become an issue.
Secondly, when a project is closed and delivered, you might not need the files to be available immediately anymore. Sometimes, you are required to secure the files, so that they are not available to others (project managers who were not involved in them).
Project archiving will move files from closed projects to different locations, so that they are not accessible through the user interface, but can still be reached by administrators of your XTRF.
Additionally, they will be zipped and password-protected for increased security and to minimize disk space usage.
So the benefit of archiving is that once the files are moved to a different location, you may delete them, secure further or move away from XTRF. You can therefore fulfill such obligation towards your clients, without deleting the projects. 
What is archived and what are the consequences?
In short – projects in statuses Closed and Canceled. Also – quotes in status Rejected.
When you archive a project, the associated quote becomes archived too. Because its status is Approved, you will find some of such quotes archived too. This, however, doesn't mean that you can archive them on your own. The related project has to be archived instead.
However, what really becomes archived in the quotes and projects is the files.
Once a quote or a project is archived, there is an appropriate note shown within the status label. 
After you archive a quote or project, its status cannot be changed, but you can still modify the basics, including finances, internal notes and custom fields.
Archiving of Smart Quotes and Projects is permanent and cannot be undone.
How to access the files after they are archived?
Files section informs about a new location of a given file directory. Its path is controlled by the Project Archive Directory naming scheme found in Configuration. Note that you can only choose the path if you host your XTRF on your own server.

If you manage your own XTRF server, you can explore the filesystem on your own. You can also use SFTP protocol.
In case your XTRF is in cloud (SAAS), you can only reach the archived files using SFTP protocol. If you do not have it enabled, contact Service Desk or your Customer Success Manager.
The files are zipped and password-protected. To learn the password, you need to visit the project.
Warning
Do not attempt to manually delete files from archived projects. Files are the backbone of an archive. After deleting the files, no one will be able to de-archive the project and add any further feedback.
How to perform archiving on your own?
Archiving can be done manually, from within a single quote or project, or their respective browses.
It can also be done automatically, by a Periodic Job.
Anyone with user rights to DELETE projects and quotes can perform archiving. 
There are two alternative methods to perform archiving manually.

In a rejected quote / closed or canceled project:
1. Use the 'more' button in the top-right-hand side corner and choose Archive. 


2. Read and acknowledge the warning. 

3. Click on Yes, Archive.
When browsing quotes or projects:

1. Select the checkbox next to the item you want to archive.
2. Click on the
Drop-down button in the top-right corner and choose Archive.
3. Read and acknowledge the warning.
4. Click on Yes, Archive.
Note:
Regular user cannot delete more than one item at a time. This is an exclusive privilege of the admin user (the original user created in your XTRF). 
Automated archiving using Periodic Job
Prerequisite
Editing the parameters of this procedure is enabled for Clients hosting XTRF on their own servers. SaaS Clients (using XTRF servers) are requested to contact XTRF Help Desk.
As a rule, all closed projects and rejected quotes become archived after 30 days. This is done by a Periodic Job, which, depending on your XTRF plan, can be stopped or modified. 
Steps

Click on the Configuration Icon > Integration > Periodic Jobs
Select Project and Quote Archiving from the list of Periodic Jobs.
You can run archivization of Classic and Smart Projects independently. Check or uncheck the boxes to include or exclude 'Classic' and 'Smart' Projects from archivization.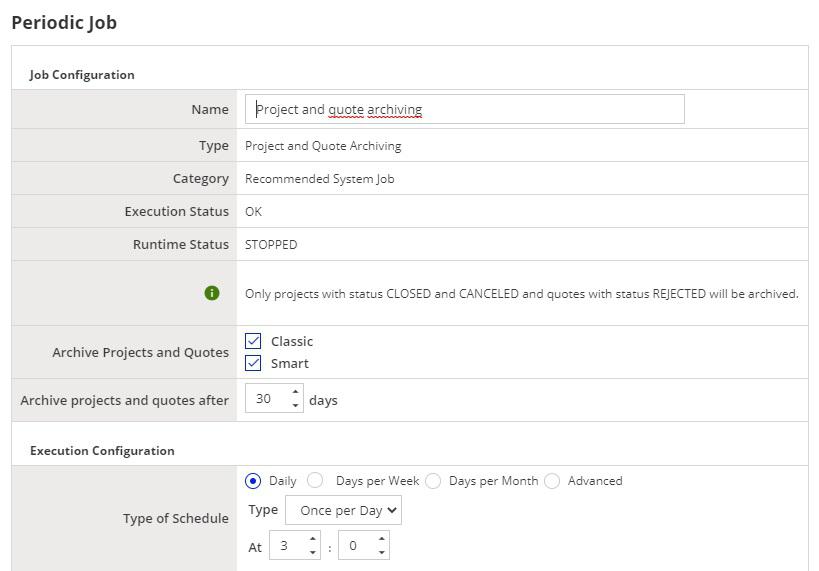 4. You can change the period, after which all matching quotes and projects become archived and choose a different schedule.

---
Read more:
- How to delete Quotes and Projects? - if you wish to wipe out unnecessary test or mistake quotes and projects.
- How to erase personal data from Quotes and Projects? - if archiving is not enough and your clients oblige you to get rid of their details.