Articles
'People' card gathers info about everyone involved in a Project / Quote.
Let's take a look at sections within 'People' card.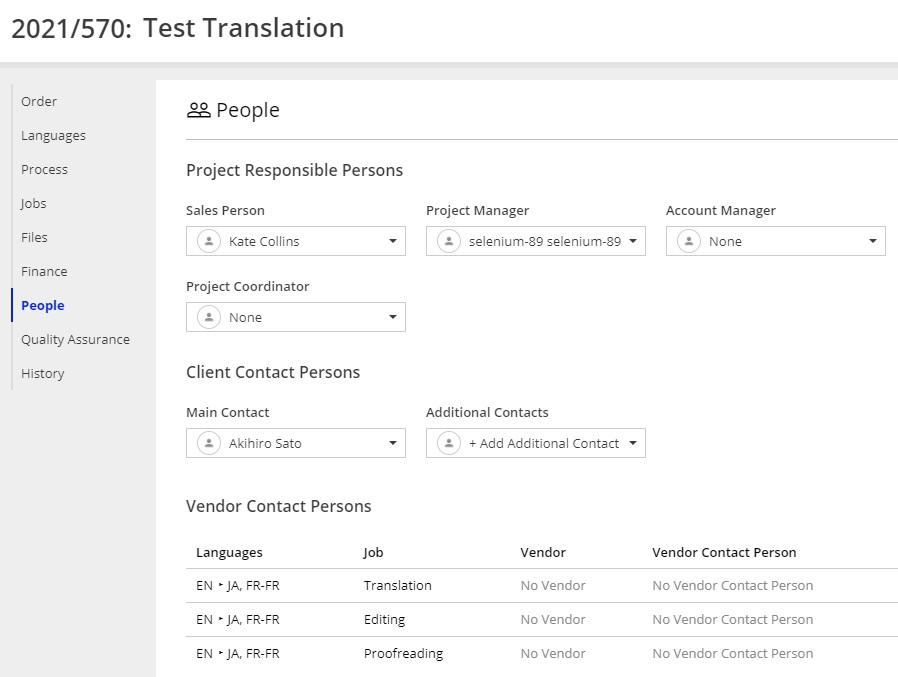 Project Responsible Persons
Sales Person - this role is filled out automatically and reflects who the sales person was in the Client Profile.

Project Manager - PM is assigned according to the rule in Automatic People Assignments. It is either Assign PM from Client profile, or Logged-in User, or a specific user picked from the list of all users.
Account Manager - this role is filled out automatically and reflects who the Account Manager was in the Client Profile. If you cannot see it on Client account's Sales Data tab, un-hide it in General Configuration by going to Hidden Fields.

Project Coordinator - this role was introduced to XTRF as a backup for Project Manager. That is why the field is hidden by default and even after being activated, it is expected this person is specifically chosen in every project.
Client Contact Persons
Main Contact - this person is normally the requester from the Client Portal or if Project was added by your staff member, then it is likely to be the default contact from Client's Price Profile.
Additional Contacts - they need to be added manually in every Quote or Project.
Vendor Contact Persons
Vendors and their contacts are listed per language.
You may also like to read the following:
https://xtrf.userecho.com/forums/6-xtrf-knowledge-base/topics/775-selecting-additional-contacts-in-smart-projects/