Articles
This article is about a deprecated feature. It is not offered any more.
XTRF SMS gate works with Sinch (formerly known as CLX Communications or CardBoardFish) to send text messages that accompany automated notifications sent from quotes, projects, or invoices - to clients and vendors alike.
Note: Sending SMS to the U.S. may require another setup. Please contact Sinch or us if you are interested.
Phone number formatting
The text message service uses Cell Phone field from clients, vendors and contact profiles.
If you are not sure about the formatting, just make sure the country extension is included. Any number is actually stripped of non-numeric characters by the service provider before sending, eg. if the phone numbers in your database look like +40 2000 123-40-60, they could as well be entered as 4020001234060.

Enabling texting service
Go to Text Message Broker in Configuration.

You just need to know your username and password for the purchased service purchased with Sinch.
Once you have that set up, test it by sending a text to your cell phone.
Preparing text templates
Every notification template you can find described as "Email/Text Message" in configuration will allow you define a template for texts as well.

Here is what to change when you open a template for editing:

go to SMS tab
make sure Enable Text Messages checkbox is ticked
if no preset text is offered, write your own, e.g. "Please check your mailbox for details"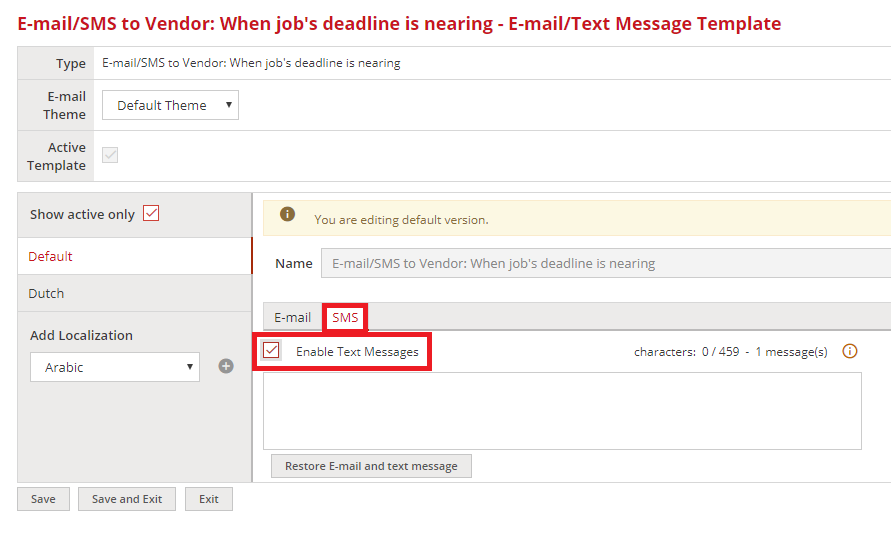 From now on, messages of such a type will be accompanying every email sent.

Limitations
Only templated text messages are available for send out, ie. you cannot edit them before sending or create them freely to many recipients in the CRM module.