Articles
XTRF makes it possible for the Vendors participating in a Project to leave notes for the following Jobs. This is useful, for example, in situations when the translator wants the proofreader to double-check a problematic issue, etc.
To enable the function, go to Configuration > Portals > Vendor Portal > Privacy Settings and select the Yes checkbox for the option Vendors allowed to add notes to other vendor(s):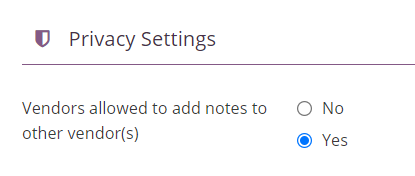 The Vendor assigned to a Job in the Project will see the Notes for Other Vendors field once they log in to the Vendor Portal and open the Job under consideration:


The notes left by the Vendor will be visible:

In the Home Portal, in the right sidebar containing the Job details:

In the Vendor Portal of the Vendor assigned to the following Job:

Vendors assigned to any subsequent steps in the process will see all notes provided by all Vendors in the preceding Jobs.