Articles
The first card you see on top of the quote or project page contains some of the general information:
Quote
Order
Client*
Service*
Created on*
Ordered on
Offer Expiry
Client Deadline
Expected Delivery Date
Actual Start Date*
Business Days
Actual Close Date*
Client Reference Number
Budget Code (optional)
Volume
Origin*
Client Notes
Internal Notes
* – non-modifiable fields, they are automatically filled out by the system
Here are two sample screen shots.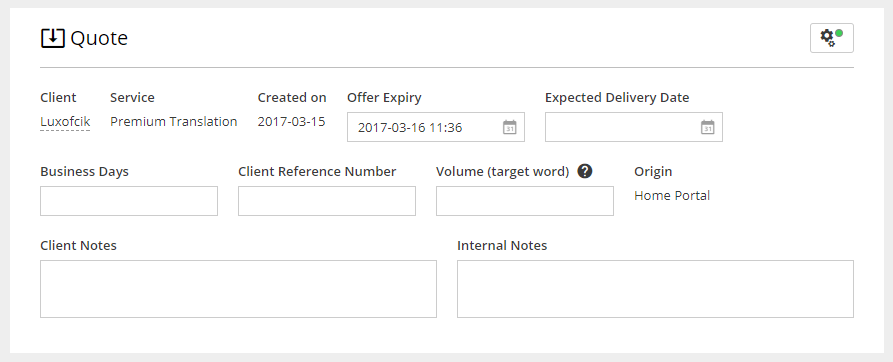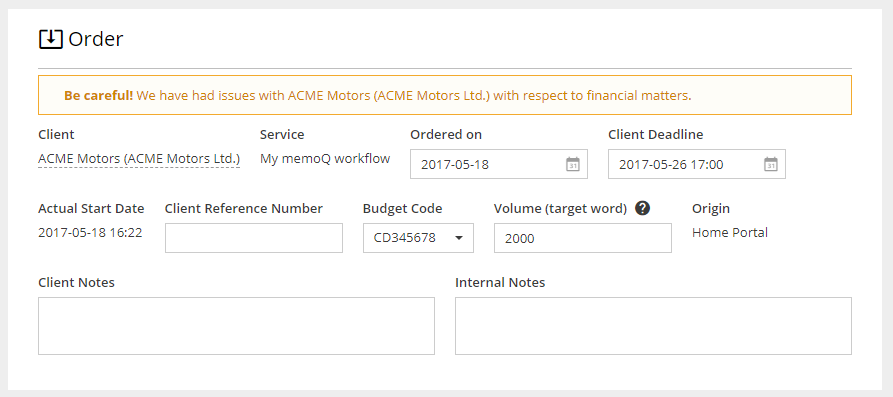 As seen on the Order screen shot, the card can also show a warning that the client had issues paying for their orders in the past. It respects a Warn PM that Client is Permanent Non-payer setting in the client's account on the Invoicing tab.
Although the labels should be self-explanatory, let us look closely at some of the fields:
Offer Expiry – an indication by when the client should decide on the quote
Expected Delivery Date – it gets converted to project's Client Deadline
Business Days – an estimated number of working days needed for the project to deliver
Client Reference Number – it may also be client's PO number
Budget Code – only shown if it is enabled in the client profile
Volume – an estimated number of words that helps to calculate the job dates when Automatic Dates are turned on
Origin – indicates where the quote/project comes from, it may be: Customer or Home Portals, Quote Request Form, or a Smart Connector
Client Notes – they contain special instructions put in the Notes field by the client on Quote Request Form or through their portal
Internal Notes – remain modifiable also after project is closed
One more thing: there is an automation button in the top-right corner of the card. It is available on Quote card only and allows for Automatic Quote Approval. When switched to ON, the Quote will be turned into a Project, the moment Client approves it.