Articles
Here's how to manage Clients who require several options to choose from when requesting a translation.
Clients may ask for a cheaper translation, with a longer delivery time, compared with a more expensive to deliver sooner. Another example may differentiate between a standard-level service (usual proofeeading) and a premium one (additional QA).
XTRF enables you to send multiple Quotes within one email and allow the Client to decide which one they prefer.
Using multiple Quotes requires to use the Opportunities module.
Whether you manage Opportunities, or not, every Quote you create is covered by an Opportunity.
If you already created a Quote and would like to add an alternative variant, find the Opportunity named after it.

Inside you will find an Offer, which links the Quote in question.
Use the Clone Offer button. This will duplicate the Quote, but keep it within the same Opportunity.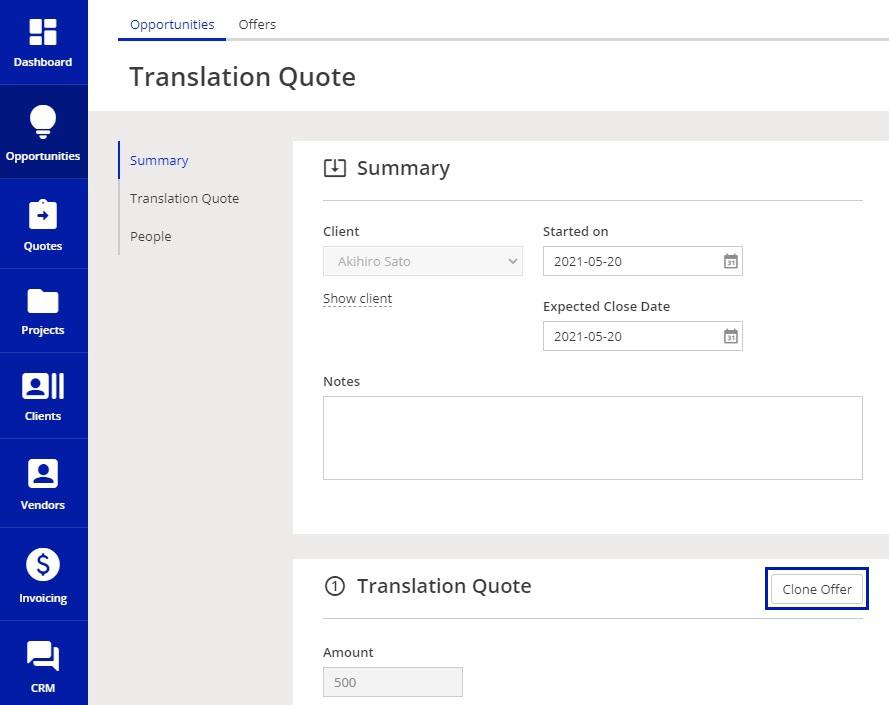 Now you can edit the new Quote to give it different conditions.
When done with editing, come back to the Opportunity to see two alternatives ready to be sent to Client.
Of course, you may Clone any of the offers to add a third option or even further ones. You can also Add an Offer that is not based on any of the existing ones (see below).
Otherwise, you may use the Send E-mail to Client button to deliver the joint offers.
Sending is confirmed with an appropriate flash message.

Both Quotes are now in status 'Sent'.
The email is based on a single Quote message, but now the details and the options are multiplied accordingly.
Two attachments are included for each of the options.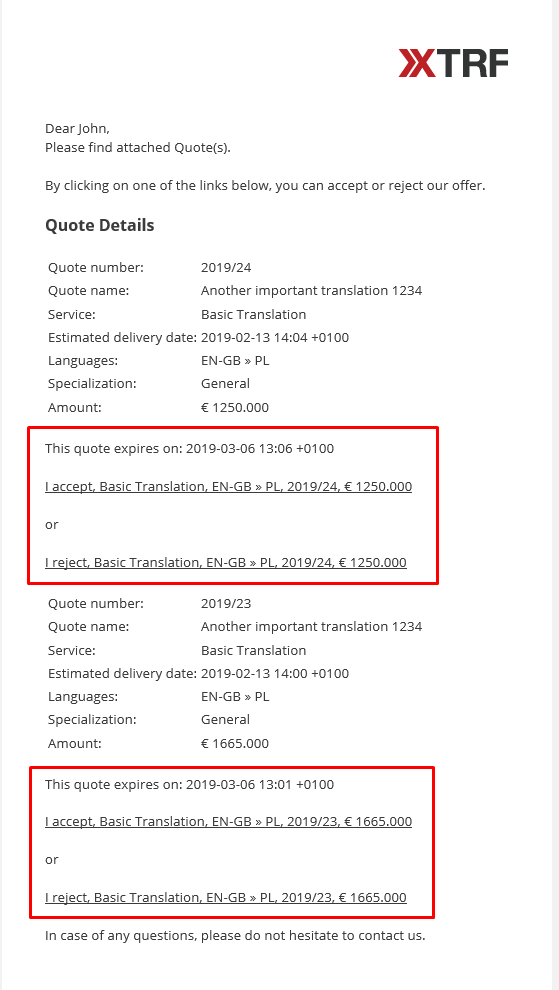 Consider these possible scenarios at the Client's end:

They can Accept one Quote, which will automatically mark the other ones as 'Rejected'.
They can Reject any of the options, which will not affect the others.
They can also Reject all of them, so that none is 'Accepted' and becomes a Project.
From now on, any of the 'Accepted' Quotes is just like a normal Quote and may become a Project.
For Quotes accepted and rejected standard notification emails are sent.
Note
You cannot join two Quotes created separately, as they belong to different Opportunities.