Articles
Dashboard module in the Home Portal is where you can create a space dedicated to your individual needs.
A variety of customizable widgets can give you quick overview and access to the most crucial areas of the Home Portal. Each Home Portal user can have their own set of widgets prepared in their Dashboard.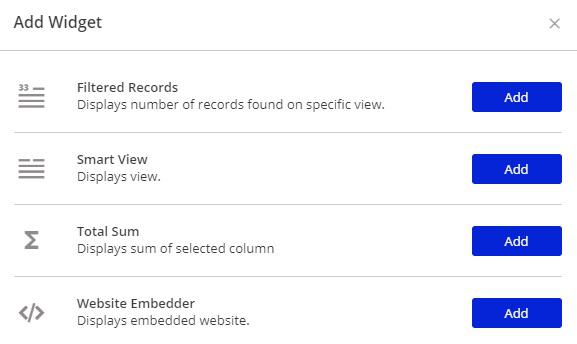 The following types of widgets are available in the Home Portal's Dashboard:
Filtered Records - displays a number of records found in a specific Smart View.
Smart View - displays a previously-defined Smart View from the many spaces you have access to.
Total Sum - displays a sum of any summable column from any Smart View table.
Website Embedder - displays an embedded website.
To customize your Dashboard:

Go to the Dashboard module and click Edit Dashboard button.
Enter your Dashboard's name in the upper-left part of the page. (optional)
Decide how many columns should appear on the page by clicking the Layout button. (optional)
To add a widget, click Add Widget. You can add as many widgets as you need. If you have some widgets already added, you can rearrange their location by dragging and dropping them in the available

slots

.
Once you are done, click Save Changes. To discard your changes, click Cancel.
To learn how to set up particular widgets, please refer to one of the following articles.

How to set up Filtered Records widget?

How to set up Smart View widget?
How to set up Total Sum widget?

How to set up Website Embedder widget?