News

Switch to the XTRF Single Sign-On feature! Have all professional network destinations available via one access point.
XTRF 9.0 supports the latest versions of memoQ, SDL Trados, and Groupshare. Make the most of your CAT Tools.
Use the Notifier app to keep tabs on important milestones and project deadlines. Coming soon to XTRF Chat!
And last but not least, enjoy the new logo and visual overhaul of all XTRF portals :)
Table of contents
New features

Feature enhancements

XTRF Chat news

Deprecated features

Admin notices
1. New features
XTRF Single Sign-On feature
If you prefer your team to have all professional network destinations available via one access point, you can include XTRF in it as well.
What is a Single Sign-On?
Single sign-on (SSO) is a feature that offers access to multiple applications using only one set of credentials. This is possible by relegating identity authentication to a third-party service (Identity Provider), to which other applications have relegated this requirement as well. Being authenticated by the Identity Provider allows you to sign in to those other applications without the need to re-enter your username and password.
XTRF SSO uses OpenID Connect standard for relegating authentication. Other popular OpenID Connect Identity Providers are Google, Microsoft Azure, Yahoo, Salesforce, GitHub, among others. SSO can be activated and configured independently for all three XTRF portals.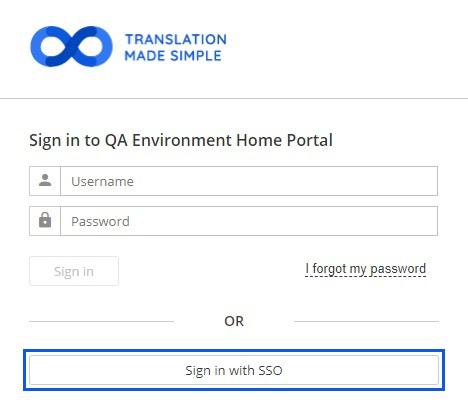 XTRF sign-in screen with both regular sign in and SSO enabled
Benefits of using SSO
The greatest advantage of SSO is that it simplifies the login process, streamlines the workflow, and increases data safety. Major benefits include:
Easier password management. It's safer to memorize one extra strong password instead of many.
Better protection, reduced vulnerability. Significantly reduced risk of human error, possible two-factor authentication (2FA) and multifactor authentication (MFA).
Better user experience. Especially when working with a large database of outside vendors. Better access speed, plus less passwords = less headache.
How to activate XTRF SSO
Contact the XTRF Helpdesk for activation.
More information
To learn more about XTRF SSO read THIS ARTICLE.
New logo and the visual overhaul of XTRF
As you may have noticed, XTRF has a new logo, and all XTRF products (TMS portals, Chat, and Business Barometer) have been visually upgraded as well.
The logo

The new logo design embodies ultimate flexibility, which is what XTRF stands for, and will expand on in the future. Simplified access, smooth workflows, easy yet versatile portal customization, one-stop communication within project teams, optimized vendor recruitment, and greater synergy with CAT Tools. This is the direction XTRF is heading in.
The visual overhaul

In the Home Portal and Vendor Portal, the menus, background colors, iconography, buttons, tables, labels, pop-up messages, etc., have all been updated to fit the color family, and the smooth, fluid style of the logo.
The Client Portal and business communication of XTRF will receive the same image treatment in near future.
If you haven't applied any custom color themes to XTRF portals, you will get the new look automatically after updating to XTRF 9.0. If you use custom color themes and would like to try out the new XTRF palette, click on the
Configuration Icon > General Configuration > Branding, click on the Portal tab of your choice, scroll down to the 'Colors' card, and click on Back to Default.
We hope you like the new XTRF look as much as we do.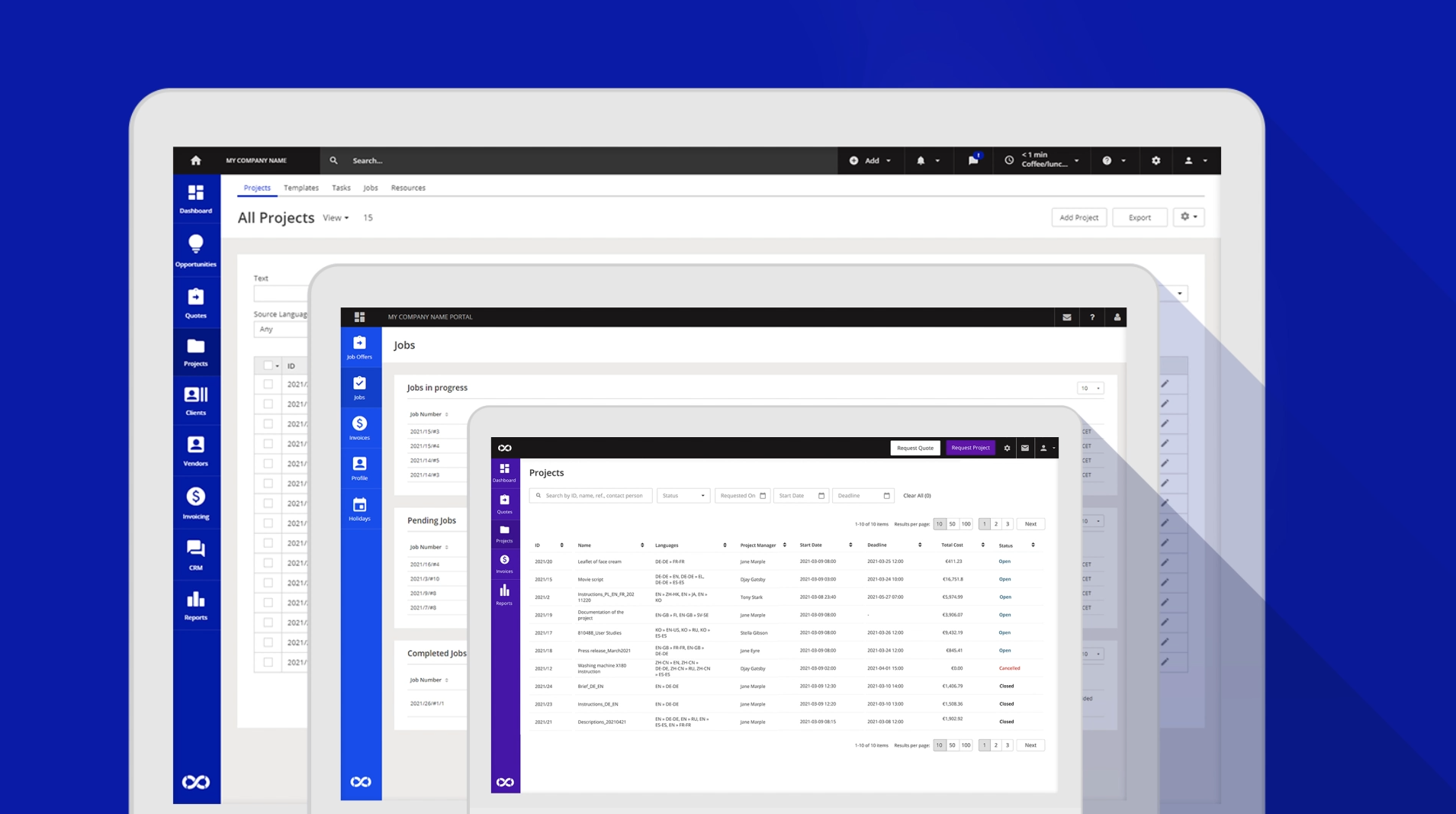 The color palette of XTRF Portals:
Home Portal: Blue Pantone
Vendor Portal: Ultramarine Blue
Client Portal: Violet
Email themes
Please note that the existing email themes in XTRF will not get automatically updated to the new branding. For these changes to take place, all the individual theme customizations would have to be erased and returned to defaults.
If you wish to use the rebranded (and new default) XTRF email themes, and customize from there, follow the steps outlined in THIS ARTICLE.
2. Feature enhancements
Support for newest versions of CAT Tools
Make the most of the newest versions of CAT Tools. XTRF now fully supports memoQ 9.7, SDL Trados Studio 2021, and SDL Trados Groupshare 2020.
The full list of supported integrations is available HERE and HERE.
Memsource Integration respects the TM penalties set in Memsource project template
When TM penalties are specified in a Memsource template, our integration respects the values and applies them to a Memsource project.

TM Penalty values set in Memsource are now recognized by XTRF
Termbases added as 'QA' by default in Memsource
Whenever a termbase is added by the integration to a Memsource project, it's automatically assigned as a QA termbase as well. There's no more need to add a termbase manually for QA to perform tasks, such as terminology checks.

Termbases are automatically shared with QA in Memsource-integrated projects
Removing and re-importing documents in memoQ does not break synchronization with XTRF
Re-importing documents in memoQ actually means deleting the previous version of a document and uploading a new one.
Meanwhile, XTRF is supposed to assure that Jobs with the 'Ready', 'Cancelled', or 'Invoiced' statuses do not change by implicit actions like periodic synchronization with memoQ. Therefore,once XTRF realized that a document was deleted in memoQ, it used to refuse to delete it in XTRF to preserve the integrity of Jobs in the above statuses.
This limitation has been lifted, and from XTRF 9.0 onward you can remove bilinguals and reimport source documents in memoQ, and the synchronization with the XTRF project will not break regardless of the Job statuses.
Note
Re-importing documents in memoQ may impact other assets and parameters in XTRF, including finances! Make sure that you follow the safety measures described in THIS ARTICLE.
Separate archiving of Smart and Classic Projects
You can now run archivization of Classic and Smart Projects independently.
Click on the Configuration Icon > Integration > Periodic Jobs.
Click on the Edit Icon next to the 'Project and Quote Archiving' periodic job.
In the 'Job Configuration' section, next to the 'Archive Projects and Quotes' field, check or uncheck the boxes to include or exclude 'Classic' and 'Smart' Projects from archivization.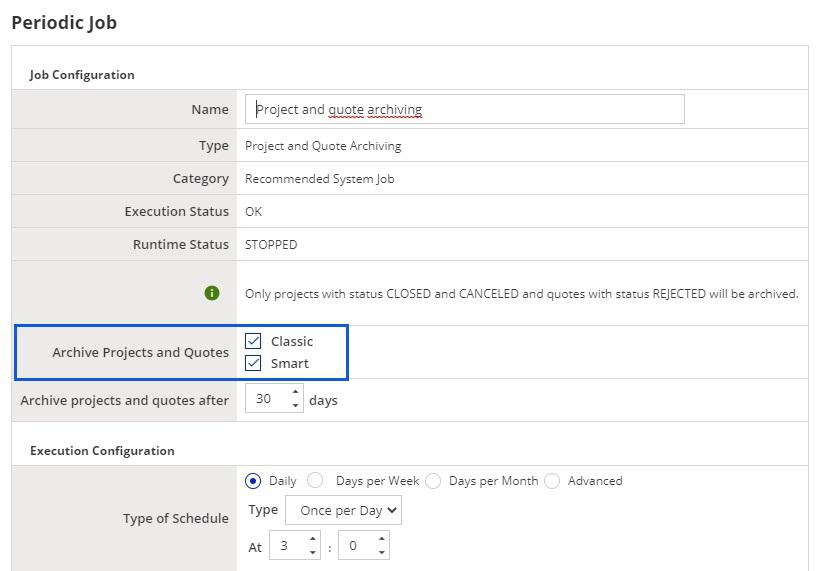 For more information about archiving projects and quotes please refer to THIS ARTICLE.
Previewing the content of 7z (and ZIP) archives in Smart Projects
XTRF now allows live browsing of the contents of 7z (and ZIP) archives without downloading and unpacking them.
When in the 'Files' card in a Smart Project, click on a 7z (or ZIP) file name and a pop-up window will appear, allowing you to explore the folder structure of the archive.

Hover over the
More Info Icon to reveal the whole path to your current folder location.

If the 7z (or ZIP) file is password protected, upon clicking it you will receive a warning prompt.

Click on the
Download Icon to download the archive.
3. XTRF Chat news
Notifier coming soon
Keep tabs on important milestones and project deadlines thanks to the Notifier app built into XTRF Chat.
Notifier is yet another argument for switching from traditional emails to XTRF Chat for monitoring the progress and timelines of all your XTRF Projects. Never miss a deadline or an important event. Let Notifier keep you on track at all times.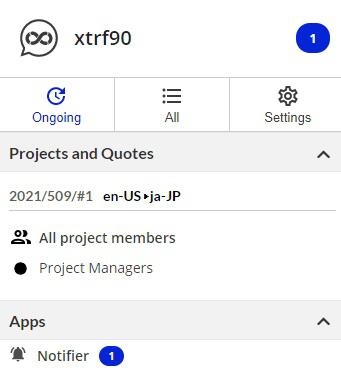 Types of notifications
Depending on the User's role (Manager or Vendor), different types of notifications will be available. Managers will be notified about being assigned to new projects or when Vendors complete their Jobs. Vendors, on the other hand, will receive notifications about important changes to their Jobs, as well as reminders about approaching or overdue deadlines.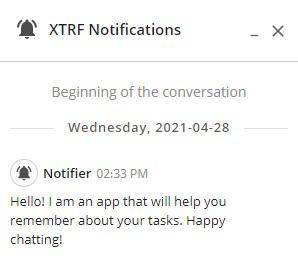 Notifier release
Notifier for XTRF Chat will be released in the coming weeks. Stay tuned!
4. Deprecated features

'Project Summary' feature removed
The 'Project Summary' page in Classic Projects was met with marginal user interest and has been deprecated since XTRF 8.5. Now the feature has been removed entirely. This means that all Show 'Project Summary' buttons are gone, and all Project Summary pages are now inaccessible.
'Order new steps' button removed
The 'Order New Steps' button has been removed from the Process Designer and the Process Template Designer. It has become redundant as custom steps can now be created by the user.
Postgresql 9.6 support removed
With the release of XTRF 9.0 the support for Postgresql 9.6 has been removed. If you are concerned about the continuity of your processes, update Postgresql to version 11 or newer (concerns on-premise hosting).
Integration with SDL Trados Studio 2017 deprecated
With the release of XTRF 9.0 and added support for SDL Trados Studio 2021 it is highly recommended to update SDL Trados Studio at least to the 2019 version, as the support for SDL Trados Studio 2017 has ceased. The expected removal will be not earlier than Q1 2022.
Integration with SDL Groupshare 2017 deprecated
With the release of XTRF 9.0 and added support for SDL Trados Groupshare 2020, the support for SDL Trados Groupshare 2017 has ceased. The expected removal will be not earlier than Q1 2022.
SSO based on HTTP header deprecated
With the release of XTRF 9.0, and the introduction of OpenID Connect single sign-on feature, the SSO based on HTTP header has become deprecated. The expected removal will be not earlier than Q1 2022.
Other deprecated features
Deprecated feature

Replaced by

User action required

Expected removal time
(may change based on user feedback)

Velocity macros

Groovy macros

Switch to Groovy macros.

Stage 1: No new Velocity macros allowed.

Applied in Q3 2021.

Stage 2: Complete removal (no ability to run existing velocity macros).

Applied not earlier than Q1 2022.

Old XTRF interface views

New XTRF interface views (Smart View)

Switch to the new XTRF interface views (Smart View).

Not earlier than Q1 2022.
5. Admin notices

EAR file

From 9.0 onward, XTRF will no longer provide the standalone EAR file. The application will be only available using the full package integrated with the Wildfly application server. If you had followed THIS UPDATE GUIDE, nothing would change.
Language versions
The new content introduced in XTRF 9.0 is not yet localized to German and Ukrainian and will be displayed in EN-US. Follow the release notes for future updates or check the following ARTICLE for current info.
Firewall check
If your firewall is configured to restrict outgoing traffic, make sure XTRF can access the TCP port at v1.endpoint.license.xtrf.eu:443 before the update. You can verify this by opening https://v1.endpoint.license.xtrf.eu/test on your server.